In the modern production site of 42,000 m² in Den Hoorn (Zuid-Holland), the diverse varieties of Lily Looks are being grown on rolling benches in an entirely automated system. The brand Lily Looks is owned by Wetering Potlilium. The potted lilies which are grown here, are intended for the European market. We also have a second location in Honselersdijk, where we can absorb the major peaks in the spring and summer months.
We take care of the transport with our own two trucks to the auction locations Honselersdijk and Aalsmeer. Of course it is also possible to buy our products straight from the nursery. Our location in Den Hoorn is near the A4 motorway.
Environment
Our plants are grown with respect for people, nature and the environment. We do everything we can to keep our environmental footprint to a minimum. The examples below are illustrative of how we try to contribute to a clean and environmentally friendly future.
The plants get rainwater that is collected in water basins. There is a closed cultivation system using roller containers with an eb band flow installation. All water that is not immediately absorbed by the plants is collected again and cleaned to be reused.
We use organic pesticides (natural enemies).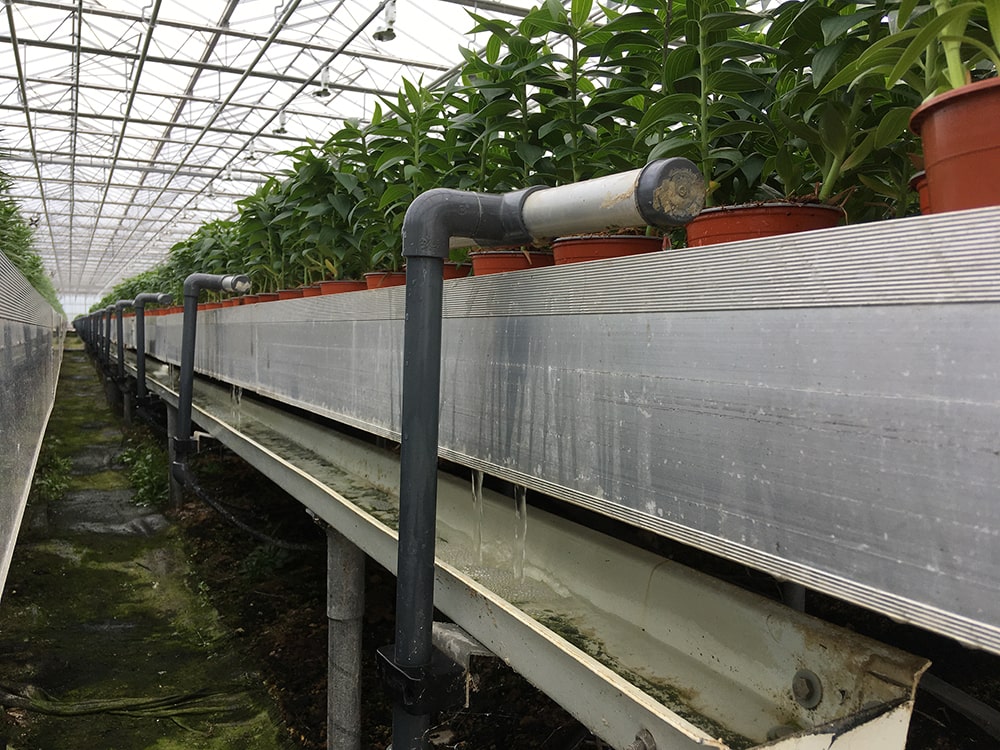 A nice piece of company history
It all started with a holiday in Zermat, Switzerland. Marco van de Wetering, then 20 years old, spotted a pot lily and once he returned to the Netherlands, he set to work with this idea.
In 1988 Marco started some experiments with pot lilies in a part of his father Cees's greenhouse, who was growing freesias and where Marco was employed, by producing 1,000 pot lilies. The first commercial pot lily production followed in 1989. His father stopped growing freesias in 1990, and Marco completely filled the greenhouse at the 'Hoge Noordweg' in Naaldwijk with pot lilies. Marco started the company Wetering Potlilium BV together with his brother Peter van de Wetering in 1997 and in order to market their pot lilies in a distinctive way, they introduced the Lady Lily brand that same year.
In 2001, they built a new fully-automatic production location at the 'Veenakkerweg' in Den Hoorn. They started a collaboration with breeder Mak Breeding in 2006 with the aim of this to select new Asiatic pot lily varieties for Wetering Potlilium, so that they could produce even more distinctive products. They introduce the Lily Looks brand, which at that moment only included its own Asiatic varieties. A year later, a genetically short range made it possible to run year-round production. Arroyo Liliumbulbs was founded in 2007 and its own bulb production was started. In 2008, pot orientals were also added to the Lily Looks brand. In 2010, Wetering Potlilium was breeding approximately 10,000,000 pot lily bulbs, of which 80% of the bulbs come from the Lily Looks range. In that year, Arroyo Lilium Bulbs had about 80 hectares of bulbs grown in the Netherlands, France and Chile.
In 2012, a second location on the 'Poeldijksepad' in Honselersdijk was purchased in order to be able to absorb the major peaks in the spring and summer months. The first Longiflorum in pots were delivered on a trial basis in 2019, also from the Lily Looks brand. In 2020, they had the opportunity to purchase a greenhouse adjacent to the main location in Den Hoorn. At the end of the year, this greenhouse was demolished in order to expand the current location with 1.7 hectares of new construction. The new greenhouse was ready at the end of 2021 and the planting line moved to the new location. In 2021, the Longiflorum were fully included in the range and the first potted LA were delivered on a trial basis. These are also from the own brand Lily Looks. The LA's will be fully included in the range in 2022. 
As of 2021, Wetering has been in business for 25 years !